VEX Robotics Motor Data - Mini CIM Motor (217-3371)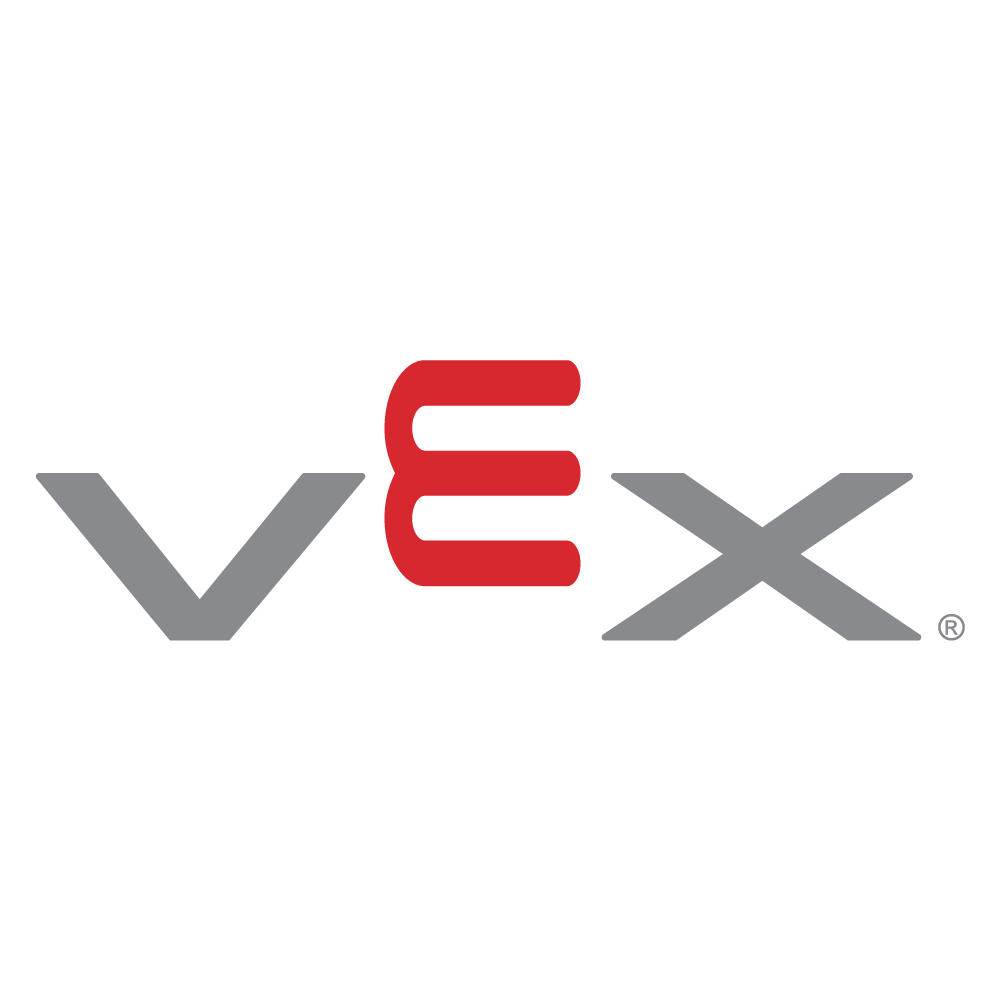 The Mini CIM has 2/3 the power of a CIM motor, in a similar form-factor and with the same mounting. Similar output speeds allow Mini CIM motors to be combined in mechanisms with full-size CIM motors using the same gearing. Use this motor interchangeably with CIMs in your designs, then swap them in and out to put your power where you need it most.
| | Published Specification | Experimental Data |
| --- | --- | --- |
| Free Speed (RPM) | 6200 (+/- 10%) | 5840 |
| Free Current (A) | 1.5 | 3 |
| Maximum Power (W) | 230 | 215 |
| Stall Torque (N · m) | 1.4 | 1.41 |
| Stall Current (A) | 86 | 89 |
The "Down-Up" Dyno Test
VEX Robotics motor curves were developed experimentally using a "down-up" dyno test.
1. A motor is spun at free speed
2. A brake is slowly applied (linearly increasing in torque over time), bringing the motor down to a predetermined RPM
3. The brake is slowly released and the motor is allowed to return to its free speed
A variety of data, such as output speed, output torque, current draw, and power input/output, is taken throughout this test. The "down" (brake applied) side is then averaged with the "up" (brake released) side.
Why "Down-Up"?
The mechanics of a dyno test are crucial to developing and publishing accurate motor specifications. When a motor is spinning at free speed while attached to a dyno drum, the system contains a high amount of rotational inertia. This inertia complements the motor's own output, creating a false reading for peak output power that can be higher than the motor's actual performance.
However, manufacturers do not always adjust for inertia cancellation when measuring their motor's performance, and spec sheets rarely detail the circumstances under which their information was derived.
By testing and averaging both the "down" (inertia helping the motor) and "up" (inertia resisting the motor) sides, this method is the best way to represent a motor's true capacity.
Speed (RPM)
Torque (N·m)
Current (A)
Supplied Power (W)
Output Power (W)
Efficiency (%)
Power Dissipation (W)
0
1.409
89.391
1072.692
0
0
1072.692
58.395
1.39491
88.527
1062.324
8.53
0.803
1053.794
116.791
1.38082
87.663
1051.956
16.888
1.605
1035.068
175.186
1.36673
86.799
1041.588
25.073
2.407
1016.515
233.582
1.35264
85.935
1031.22
33.086
3.208
998.134
291.977
1.33855
85.071
1020.852
40.927
4.009
979.925
350.372
1.32446
84.207
1010.484
48.596
4.809
961.888
408.768
1.31037
83.343
1000.116
56.092
5.609
944.024
467.163
1.29628
82.479
989.748
63.416
6.407
926.332
525.559
1.28219
81.615
979.38
70.567
7.205
908.813
583.954
1.2681
80.751
969.012
77.546
8.003
891.466
642.35
1.25401
79.886
958.632
84.353
8.799
874.279
700.745
1.23992
79.022
948.264
90.988
9.595
857.276
759.14
1.22583
78.158
937.896
97.45
10.39
840.446
817.536
1.21174
77.294
927.528
103.74
11.185
823.788
875.931
1.19765
76.43
917.16
109.857
11.978
807.303
934.327
1.18356
75.566
906.792
115.802
12.771
790.99
992.722
1.16947
74.702
896.424
121.575
13.562
774.849
1051.117
1.15538
73.838
886.056
127.176
14.353
758.88
1109.513
1.14129
72.974
875.688
132.604
15.143
743.084
1167.908
1.1272
72.11
865.32
137.86
15.932
727.46
1226.304
1.11311
71.246
854.952
142.944
16.72
712.008
1284.699
1.09902
70.382
844.584
147.855
17.506
696.729
1343.094
1.08493
69.518
834.216
152.594
18.292
681.622
1401.49
1.07084
68.654
823.848
157.16
19.076
666.688
1459.885
1.05675
67.79
813.48
161.555
19.86
651.925
1518.281
1.04266
66.926
803.112
165.777
20.642
637.335
1576.676
1.02857
66.062
792.744
169.826
21.423
622.918
1635.071
1.01448
65.198
782.376
173.704
22.202
608.672
1693.467
1.00039
64.334
772.008
177.409
22.98
594.599
1751.862
0.9863
63.47
761.64
180.941
23.757
580.699
1810.258
0.97221
62.605
751.26
184.302
24.532
566.958
1868.653
0.95812
61.741
740.892
187.49
25.306
553.402
1927.049
0.94403
60.877
730.524
190.505
26.078
540.019
1985.444
0.92994
60.013
720.156
193.349
26.848
526.807
2043.839
0.91585
59.149
709.788
196.02
27.617
513.768
2102.235
0.90176
58.285
699.42
198.518
28.383
500.902
2160.63
0.88767
57.421
689.052
200.845
29.148
488.207
2219.026
0.87358
56.557
678.684
202.999
29.911
475.685
2277.421
0.85949
55.693
668.316
204.981
30.671
463.335
2335.816
0.8454
54.829
657.948
206.79
31.43
451.158
2394.212
0.83131
53.965
647.58
208.427
32.186
439.153
2452.607
0.81722
53.101
637.212
209.892
32.939
427.32
2511.003
0.80313
52.237
626.844
211.184
33.69
415.66
2569.398
0.78904
51.373
616.476
212.304
34.438
404.172
2627.793
0.77495
50.509
606.108
213.252
35.184
392.856
2686.189
0.76086
49.645
595.74
214.028
35.926
381.712
2744.584
0.74677
48.781
585.372
214.631
36.666
370.741
2802.98
0.73268
47.917
575.004
215.062
37.402
359.942
2861.375
0.71859
47.053
564.636
215.32
38.134
349.316
2919.771
0.7045
46.189
554.268
215.406
38.863
338.862
2978.166
0.69041
45.324
543.888
215.32
39.589
328.568
3036.561
0.67632
44.46
533.52
215.062
40.31
318.458
3094.957
0.66223
43.596
523.152
214.631
41.027
308.521
3153.352
0.64814
42.732
512.784
214.028
41.738
298.756
3211.748
0.63405
41.868
502.416
213.252
42.445
289.164
3270.143
0.61996
41.004
492.048
212.304
43.147
279.744
3328.538
0.60587
40.14
481.68
211.184
43.843
270.496
3386.934
0.59178
39.276
471.312
209.892
44.534
261.42
3445.329
0.57769
38.412
460.944
208.427
45.217
252.517
3503.725
0.5636
37.548
450.576
206.79
45.895
243.786
3562.12
0.54951
36.684
440.208
204.981
46.565
235.227
3620.515
0.53542
35.82
429.84
202.999
47.227
226.841
3678.911
0.52133
34.956
419.472
200.845
47.88
218.627
3737.306
0.50724
34.092
409.104
198.518
48.525
210.586
3795.702
0.49315
33.228
398.736
196.02
49.16
202.716
3854.097
0.47906
32.364
388.368
193.349
49.785
195.019
3912.492
0.46497
31.5
378
190.505
50.398
187.495
3970.888
0.45088
30.636
367.632
187.49
50.999
180.142
4029.283
0.43679
29.772
357.264
184.302
51.587
172.962
4087.679
0.4227
28.908
346.896
180.941
52.16
165.955
4146.074
0.40861
28.043
336.516
177.409
52.719
159.107
4204.47
0.39452
27.179
326.148
173.704
53.259
152.444
4262.865
0.38043
26.315
315.78
169.826
53.78
145.954
4321.26
0.36634
25.451
305.412
165.777
54.28
139.635
4379.656
0.35225
24.587
295.044
161.555
54.756
133.489
4438.051
0.33816
23.723
284.676
157.16
55.207
127.516
4496.447
0.32407
22.859
274.308
152.594
55.629
121.714
4554.842
0.30998
21.995
263.94
147.855
56.018
116.085
4613.237
0.29589
21.131
253.572
142.944
56.372
110.628
4671.633
0.2818
20.267
243.204
137.86
56.685
105.344
4730.028
0.26771
19.403
232.836
132.604
56.952
100.232
4788.424
0.25362
18.539
222.468
127.176
57.166
95.292
4846.819
0.23953
17.675
212.1
121.575
57.32
90.525
4905.214
0.22544
16.811
201.732
115.802
57.404
85.93
4963.61
0.21135
15.947
191.364
109.857
57.407
81.507
5022.005
0.19726
15.083
180.996
103.74
57.316
77.256
5080.401
0.18317
14.219
170.628
97.45
57.113
73.178
5138.796
0.16908
13.355
160.26
90.988
56.775
69.272
5197.191
0.15499
12.491
149.892
84.353
56.276
65.539
5255.587
0.1409
11.627
139.524
77.546
55.579
61.978
5313.982
0.12681
10.762
129.144
70.567
54.642
58.577
5372.378
0.11272
9.898
118.776
63.416
53.391
55.36
5430.773
0.09863
9.034
108.408
56.092
51.742
52.316
5489.169
0.08454
8.17
98.04
48.596
49.568
49.444
5547.564
0.07045
7.306
87.672
40.927
46.682
46.745
5605.959
0.05636
6.442
77.304
33.086
42.8
44.218
5664.355
0.04227
5.578
66.936
25.073
37.458
41.863
5722.75
0.02818
4.714
56.568
16.888
29.854
39.68
5781.146
0.01409
3.85
46.2
8.53
18.463
37.67
5839.541
0
2.986
35.832
0
0
35.832
Time
Current (A)
Power Output (W)
Time (s)
Current (A)
Power Out (W)
Time
Current (A)
Power Out (W)
Time
Current (A)
Power Out (W)
Time
Current (A)
Power Out (W)
Time
Current (A)
Power Out (W)
Time
Current (A)
Power Output (W)
Time
Current (A)
Power Out (W)
Time
Current (A)
Power Out (W)
Time
Current (A)
Power Out (W)
Time
Current (A)
Power Out (W)