VEX Robotics Motor Data - BAG Motor (217-3351)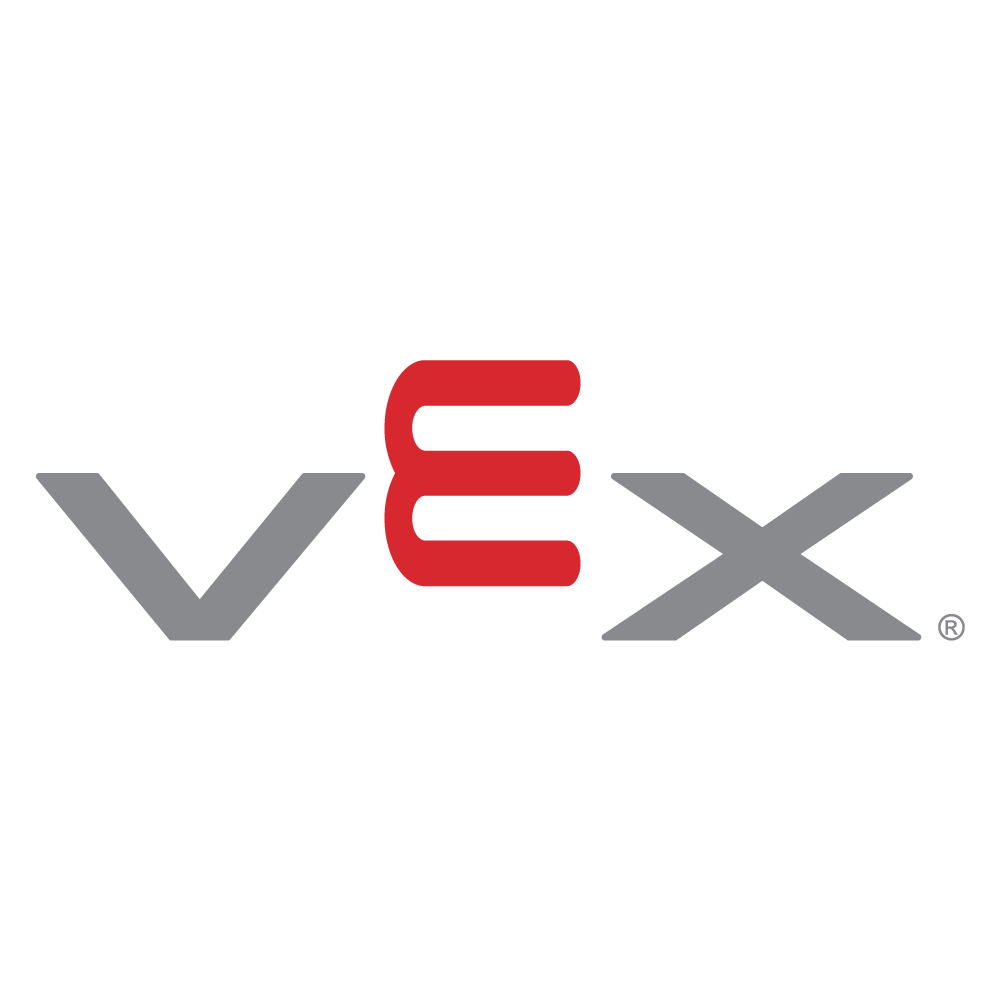 The BAG Motor is a motor designed specifically for medium-power applications on FIRST ® Robotics Competition robots. This motor is constructed similarly to the CIM & Mini CIM, with the sealed-case robustness FIRST ® Robotics Competition teams have come to love & trust.
| | Published Specification | Experimental Data |
| --- | --- | --- |
| Free Speed (RPM) | 14000 (+/- 10%) | 13180 |
| Free Current (A) | 1.8 | 1.8 |
| Maximum Power (W) | 147 | 149 |
| Stall Torque (N · m) | 0.4 | 0.43 |
| Stall Current (A) | 41 | 53 |
The "Down-Up" Dyno Test
VEX Robotics motor curves were developed experimentally using a "down-up" dyno test.
1. A motor is spun at free speed
2. A brake is slowly applied (linearly increasing in torque over time), bringing the motor down to a predetermined RPM
3. The brake is slowly released and the motor is allowed to return to its free speed
A variety of data, such as output speed, output torque, current draw, and power input/output, is taken throughout this test. The "down" (brake applied) side is then averaged with the "up" (brake released) side.
Why "Down-Up"?
The mechanics of a dyno test are crucial to developing and publishing accurate motor specifications. When a motor is spinning at free speed while attached to a dyno drum, the system contains a high amount of rotational inertia. This inertia complements the motor's own output, creating a false reading for peak output power that can be higher than the motor's actual performance.
However, manufacturers do not always adjust for inertia cancellation when measuring their motor's performance, and spec sheets rarely detail the circumstances under which their information was derived.
By testing and averaging both the "down" (inertia helping the motor) and "up" (inertia resisting the motor) sides, this method is the best way to represent a motor's true capacity.
Speed (RPM)
Torque (N·m)
Current (A)
Supplied Power (W)
Output Power (W)
Efficiency (%)
Power Dissipation (W)
0
0.431
52.619
631.428
0
0
631.428
131.777
0.42669
52.102
625.224
5.888
0.942
619.336
263.554
0.42238
51.585
619.02
11.657
1.883
607.363
395.331
0.41807
51.067
612.804
17.308
2.824
595.496
527.108
0.41376
50.55
606.6
22.839
3.765
583.761
658.884
0.40945
50.033
600.396
28.251
4.705
572.145
790.661
0.40514
49.516
594.192
33.545
5.645
560.647
922.438
0.40083
48.999
587.988
38.719
6.585
549.269
1054.215
0.39652
48.481
581.772
43.775
7.524
537.997
1185.992
0.39221
47.964
575.568
48.711
8.463
526.857
1317.769
0.3879
47.447
569.364
53.529
9.402
515.835
1449.546
0.38359
46.93
563.16
58.227
10.339
504.933
1581.323
0.37928
46.412
556.944
62.807
11.277
494.137
1713.1
0.37497
45.895
550.74
67.268
12.214
483.472
1844.876
0.37066
45.378
544.536
71.61
13.151
472.926
1976.653
0.36635
44.861
538.332
75.832
14.086
462.5
2108.43
0.36204
44.344
532.128
79.936
15.022
452.192
2240.207
0.35773
43.826
525.912
83.921
15.957
441.991
2371.984
0.35342
43.309
519.708
87.787
16.892
431.921
Speed (RPM)
Torque (N·m)
Current (A)
Supplied Power (W)
Output Power (W)
Efficiency (%)
Power Dissipation (W)
2503.761
0.34911
42.792
513.504
91.534
17.825
421.97
2635.538
0.3448
42.275
507.3
95.162
18.759
412.138
2767.315
0.34049
41.758
501.096
98.671
19.691
402.425
2899.092
0.33618
41.24
494.88
102.062
20.624
392.818
3030.868
0.33187
40.723
488.676
105.333
21.555
383.343
3162.645
0.32756
40.206
482.472
108.485
22.485
373.987
3294.422
0.32325
39.689
476.268
111.518
23.415
364.75
3426.199
0.31894
39.172
470.064
114.433
24.344
355.631
3557.976
0.31463
38.654
463.848
117.228
25.273
346.62
3689.753
0.31032
38.137
457.644
119.905
26.2
337.739
3821.53
0.30601
37.62
451.44
122.462
27.127
328.978
3953.307
0.3017
37.103
445.236
124.901
28.053
320.335
4085.084
0.29739
36.585
439.02
127.22
28.978
311.8
4216.86
0.29308
36.068
432.816
129.421
29.902
303.395
4348.637
0.28877
35.551
426.612
131.502
30.825
295.11
4480.414
0.28446
35.034
420.408
133.465
31.747
286.943
4612.191
0.28015
34.517
414.204
135.309
32.667
278.895
4743.968
0.27584
33.999
407.988
137.034
33.588
270.954
4875.745
0.27153
33.482
401.784
138.64
34.506
263.144
5007.522
0.26722
32.965
395.58
140.127
35.423
255.453
5139.299
0.26291
32.448
389.376
141.495
36.339
247.881
5271.076
0.2586
31.931
383.172
142.744
37.253
240.428
5402.852
0.25429
31.413
376.956
143.874
38.167
233.082
5534.629
0.24998
30.896
370.752
144.885
39.079
225.867
5666.406
0.24567
30.379
364.548
145.777
39.988
218.771
5798.183
0.24136
29.862
358.344
146.55
40.896
211.794
5929.96
0.23705
29.345
352.14
147.204
41.803
204.936
6061.737
0.23274
28.827
345.924
147.74
42.709
198.184
6193.514
0.22843
28.31
339.72
148.156
43.611
191.564
6325.291
0.22412
27.793
333.516
148.453
44.512
185.063
6457.068
0.21981
27.276
327.312
148.632
45.41
178.68
6588.845
0.2155
26.759
321.108
148.691
46.306
172.417
6720.621
0.21119
26.241
314.892
148.632
47.201
166.26
6852.398
0.20688
25.724
308.688
148.453
48.092
160.235
6984.175
0.20257
25.207
302.484
148.156
48.98
154.328
7115.952
0.19826
24.69
296.28
147.74
49.865
148.54
7247.729
0.19395
24.172
290.064
147.204
50.749
142.86
7379.506
0.18964
23.655
283.86
146.55
51.628
137.31
7511.283
0.18533
23.138
277.656
145.777
52.503
131.879
Speed (RPM)
Torque (N·m)
Current (A)
Supplied Power (W)
Output Power (W)
Efficiency (%)
Power Dissipation (W)
7643.06
0.18102
22.621
271.452
144.885
53.374
126.567
7774.837
0.17671
22.104
265.248
143.874
54.241
121.374
7906.613
0.1724
21.586
259.032
142.744
55.107
116.288
8038.39
0.16809
21.069
252.828
141.495
55.965
111.333
8170.167
0.16378
20.552
246.624
140.127
56.818
106.497
8301.944
0.15947
20.035
240.42
138.64
57.666
101.78
8433.721
0.15516
19.518
234.216
137.034
58.508
97.182
8565.498
0.15085
19
228
135.309
59.346
92.691
8697.275
0.14654
18.483
221.796
133.465
60.175
88.331
8829.052
0.14223
17.966
215.592
131.502
60.996
84.09
8960.829
0.13792
17.449
209.388
129.421
61.809
79.967
9092.605
0.13361
16.932
203.184
127.22
62.613
75.964
9224.382
0.1293
16.414
196.968
124.901
63.412
72.067
9356.159
0.12499
15.897
190.764
122.462
64.196
68.302
9487.936
0.12068
15.38
184.56
119.905
64.968
64.655
9619.713
0.11637
14.863
178.356
117.228
65.727
61.128
9751.49
0.11206
14.345
172.14
114.433
66.477
57.707
9883.267
0.10775
13.828
165.936
111.518
67.205
54.418
10015.044
0.10344
13.311
159.732
108.485
67.917
51.247
10146.821
0.09913
12.794
153.528
105.333
68.608
48.195
10278.597
0.09482
12.277
147.324
102.062
69.277
45.262
10410.374
0.09051
11.759
141.108
98.671
69.926
42.437
10542.151
0.0862
11.242
134.904
95.162
70.541
39.742
10673.928
0.08189
10.725
128.7
91.534
71.122
37.166
10805.705
0.07758
10.208
122.496
87.787
71.665
34.709
11069.259
0.06896
9.173
110.076
79.936
72.619
30.14
11201.036
0.06465
8.656
103.872
75.832
73.005
28.04
11332.813
0.06034
8.139
97.668
71.61
73.32
26.058
11464.589
0.05603
7.622
91.464
67.268
73.546
24.196
11596.366
0.05172
7.105
85.26
62.807
73.665
22.453
11728.143
0.04741
6.587
79.044
58.227
73.664
20.817
11859.92
0.0431
6.07
72.84
53.529
73.488
19.311
11991.697
0.03879
5.553
66.636
48.711
73.1
17.925
12123.474
0.03448
5.036
60.432
43.775
72.437
16.657
12255.251
0.03017
4.518
54.216
38.719
71.416
15.497
12387.028
0.02586
4.001
48.012
33.545
69.868
14.467
12518.805
0.02155
3.484
41.808
28.251
67.573
13.557
12650.581
0.01724
2.967
35.604
22.839
64.147
12.765
12782.358
0.01293
2.45
29.4
17.308
58.871
12.092
Speed (RPM)
Torque (N·m)
Current (A)
Supplied Power (W)
Output Power (W)
Efficiency (%)
Power Dissipation (W)
12914.135
0.00862
1.932
23.184
11.657
50.28
11.527
13045.912
0.00431
1.415
16.98
5.888
34.676
11.092
13177.689
0
0.898
10.776
0
0
10.776
Time
Current (A)
Power Output (W)
Time
Current (A)
Power Out (W)
Time
Current (A)
Power Out (W)
Time
Current (A)
Power Out (W)
Time
Current (A)
Power Out (W)
Time
Current (A)
Power Output (W)
Time
Current (A)
Power Out (W)
Time
Current (A)
Power Out (W)
Time
Current (A)
Power Out (W)
Time
Current (A)
Power Out (W)
Time
Current (A)
Power Output (W)
Time
Current (A)
Power Out (W)
Time
Current (A)
Power Out (W)
Time
Current (A)
Power Out (W)
Time
Current (A)
Power Out (W)